Main content starts here, tab to start navigating
Community
Slide 1 of 2
Slide 2 of 2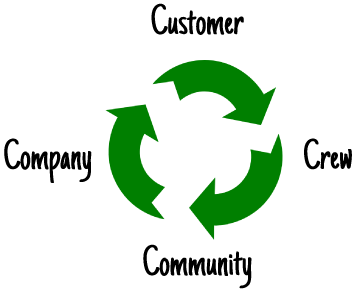 Here at Glass Nickel Pizza Co. we believe that if we do our best to support our customers, crew, and community, we earn support in return. In order to do that we do pizza a little different.
We take steps to do all we can to minimize our environmental footprint. From hybrid and electric delivery cars to solar water heaters. Wind electricity shares to unbleached pizza boxes and bags. Biodegradable straws to minimizing food waste. Supporting local vendors and using real Wisconsin cheese made from Wisconsin's Dairy Farmers. We know every little decision adds up to make a difference, and we do our very best to grow green.
Next up are our fans: the Customers and our Community. We truly understand and are grateful for our neighbors that live, learn, play, and work in each of our GNP locations that allow us to do what we love each day. It is important to us to do everything we can to support YOU. We strive to provide exceptional service and build restaurants that we hope guests consider a second home. Each location carries the same award winning pizza and awesome service, but each is also unique and has the personal touch of the individual owner-operator(s) as well as the community it represents.
We give back by donating quarterly as a group to local charities such as Big Brothers Big Sisters, the MS Society, and the Wisconsin Honor Flight, to name a few. On a local level, each GNP is excited to be able to provide food donations or raffle items to local groups, schools, and charities to help them raise money for their organizations or feed volunteers. GNP owners and their crews have big hearts, and it shows!
Most importantly, the people that bring this all together are our crew, our amazing team members! To ensure your pizza is fresh, hot and served by a smiling face, we insist that every store has their own team of professional, in-house drivers delivering your freshly prepared meal direct. We don't outsource a critical part of our service. To make the best pizza possible we offer a fun work environment where personal growth is cultivated, team input is critical, and competitive wages and promotions lead to more opportunities. To provide the best possible service, we ensure each location is locally owned and operated by someone who believes in our company culture and vision. In fact, you will often find the owners of each location still making pizzas, taking an order, or out delivering.
Currently all of our owners started as an employee in one of our original units and have grown right along with us. We take great pride knowing our owners enjoyed what we do so much, they worked extra hard to be able to offer the same pizza, careers, and unique restaurant in their own communities. What started out as a dream by two has grown into a group of locally owned restaurant operators that love what they do! And we are all honored to have the opportunity to serve each and every customer that walks through our doors, picks up the phone, or orders one of our award winning pizzas online.
To everyone who has been part of our GNP family, whether since 1997 or for the first time today, from employee to customer, neighbor to vendor, we thank you for each day we get to wake up and strive to be our best!